1. It's The Best Reviewed Movie Of 2017
With a 100% rating on Rotten Tomatoes, Get Out earned its title of the best reviewed movie of 2017.
2. You Can Watch It Anywhere
Digital HD with UltraViolet™ lets you watch movies anywhere, on any device. Users can instantly stream or download movies to watch on iPad®, iPhone®, Android™, smart TVs, connected Blu-ray™ players, game consoles and more.
3. The Suspense Is Worth The Wait
Whether or not you've seen Get Out, you've heard the hype around the mind-boggling ending. *No spoiler alert* The Blue-Ray DVD features a bonus alternative ending that might be more chilling than the original.
4. You Have To Watch It Multiple Times
If you caught Get Out in theaters, chances are, you probably missed some pretty significant moments, like when Georgina fixed her bangs, which covered her lobotomy scar, in the reflection of her window.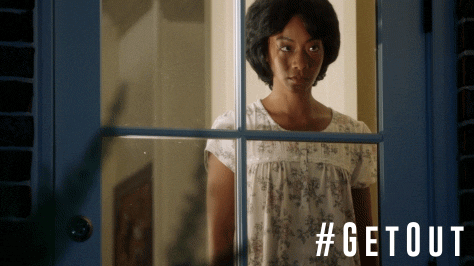 The DVD also features a Q&A Discussion with Writer/Director Jordan Peele and the Cast: Director/Writer Jordan Peele, who sits down with the cast to answer fan questions on the film hosted by Chance the Rapper.
5. You Need It For Your Collection
Get Out is a must-have DVD for your collection.
RELATED STORIES:
'Black Panther' Cast Does The Get Out Challenge & It Brings Us Glee
'Get Out' EXCLUSIVE Clip: Chris Washington Is Racially Profiled By The Police
5 Reasons You Need The 'Get Out' Blu-Ray DVD  was originally published on hellobeautiful.com