Grab your girls and a few adult beverages before you hit the theater, Girls Trip is the Black woman's Hangover and here are all the reasons it's the must-see comedy of the year.
5. Can We Say Man Candy?
Who says boys aren't allowed on a girlfriend's getaway? From Queen Sugar star Kofi Siriboe to Luke Cage hunk Mike Colter and a sprinkle of Larenz Tate for good measure, there's not one sour treat down in NOLA. There is plenty of chocolate on this girl's trip to satisfy your sweet tooth and even more compromising scenes that will leave you clutching your pearls.
4. Essence Festival X The Nawlins
Essence Festival gets bigger every year and this time around is no different as Black women trek from around the world to the culture-filled New Orleans for a weekend of sisterhood and empowerment. Girls Trip offers an intimate glimpse into the thought-provoking panels, star-studded concerts and famous Bourbon Street like never before. The food, the festivities and music in the streets will send you into straight vacation planning mode.
3. It Showcases Black Women In A Multifaceted Light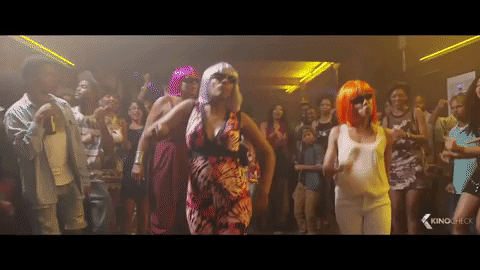 It isn't often we get to see ourselves in all our nuanced glory. Girls Trip showcases the everyday Black woman, who balances her professional and personal life while still knowing how to have a wild good time with her girls, even if that means donning a disguise during a dance-off in the middle of a New Orleans nightclub. It could happen.
2. It's Raunchy In All The Right Ways
What happens when you mix business with a generous dose of the hallucinogenic drink Absinthe? One wild night that ends with a grapefruit. Trust us, you'll never look at a grapefruit the same way again.
1. The Flossy Posse
The best part about Girls Trip is the cast.
Queen Latifah, Regina Hall, Jada Pinkett and Tiffany Haddish, who is the breakout star of the film, draw you in and make you feel like you're watching you and your girls on the big screen. The camaraderie between the Flossy Posse is heartwarming. Even when they're presented with the trials and tribulations of womanhood, they ban together and go down swinging. Literally!
We all have a Flossy Posse of our own and know the depths of how sisterhood shaped our lives. Girls Trip is a must-see movie that will leave you crying and laughing at the same time. But more importantly, it will leave you smiling because we can all remember our favorite trip with the girls. So be sure to check it out when it hits theaters nationwide on July 21.
5 Reasons To See 'Girls Trip'  was originally published on hellobeautiful.com