Andrew Gillum at first appeared to have lost Florida's race for governor to Ron DeSantis. But now, for the first time ever in a Florida governor race, there will be a recount.
See Also: Andrew Gillum Barely Loses Florida Governor Race By The Slimmest of Margins
"Mr. DeSantis's victory margin has since shrunk to 0.47 percentage points — three-hundredths of a point below the recount threshold," the New York Times reported.
In Florida, an automatic recount is triggered when there's a lead of less than one half of a percentage. If the margin of victory is under one-quarter of a percentage point, a hand recount is ordered.
"The Florida race for Governor is now in the range where a legal recount is required," activist Shaun King wrote on Twitter. "The national news media never should've called this race in the first place. @AndrewGillum can still win & tens of thousands of votes are outstanding. Getting closer & closer."
See the latest numbers below: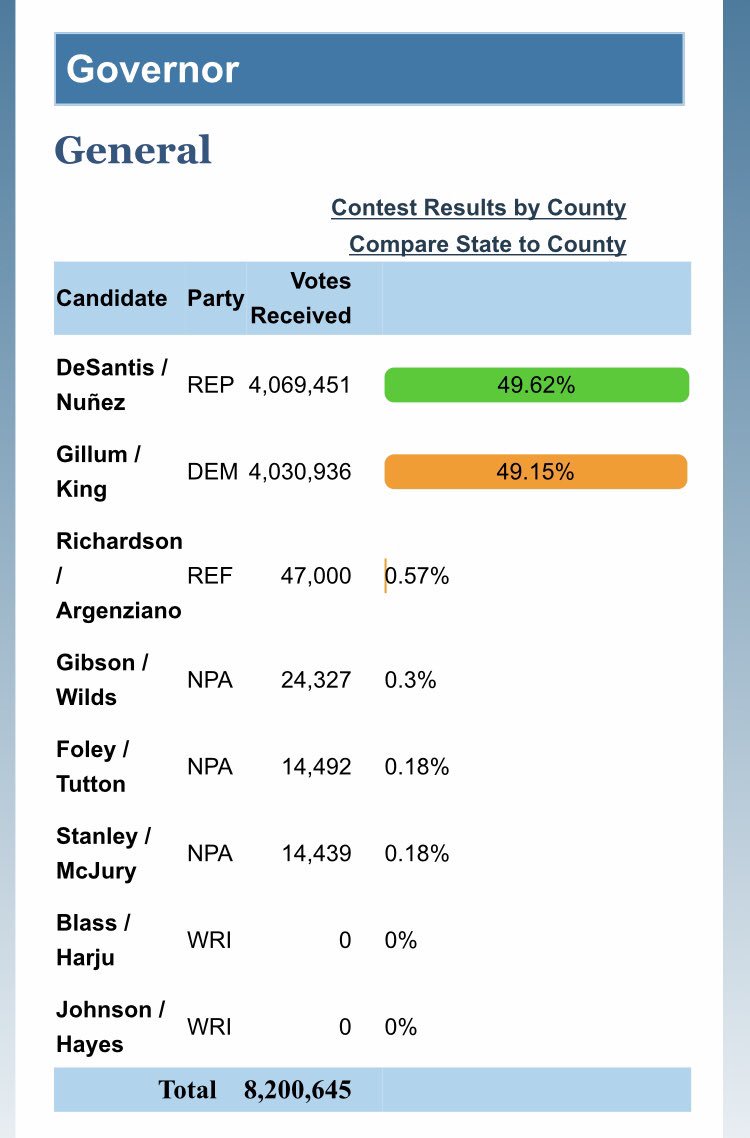 April Ryan on Wednesday was the first one to report a possible recount. The Senate race in Florida will also get a recount.
Although Gillum did concede, that was a formality.
"I sincerely regret that I couldn't bring it home for you," Gillum said to his supporters in an emotional speech Tuesday night, referring to his campaign slogan. But now, the apparent elusive victory win might still be within reach.
Hopefully, this was a good sign for Democrat Stacy Abrams, who was pushing for every vote to be counted in Georgia. Despicably, her opponent Brian Kemp's campaign claimed he won even though no media outlets were calling the race for him, or at all.
We are rooting for Gillum and Abrams. Bring it all the way home!
SEE ALSO:
All The Ways Cops Are Still Trying To Cover Up LaQuan McDonald's Execution
Outrageous! Figurines Of White Cherub Crushing Head Of Black Angel Removed From Dollar Store
Meet Jogger Joe, The Man Who Took Racist Cue From BBQ Becky In Tossing Homeless Man's Clothes
Bring It Home! Florida Governor's Race Reportedly Headed For A Recount  was originally published on newsone.com